Holiday apartment Chalet "Fuchsbau"****, Beatenberg/Interlaken near the "Jungfrau", Switzerland
with the best view to the mountains and the lake.
► available dates South/East....

► available dates South/West...
Your holiday residence in
Beatenberg
► You are looking for ....... pure nature
► You are looking for ....... calm
► You are looking for ....... rest
► You are looking for ....... active and sports holiday
► You are looking for ....... cultural activities
Looking for a cosy and modern holiday home, from where you can realise all your holiday dreams!


You will find all this in the
Apartments of Chalet "Fuchsbau ****"
South / East and South / West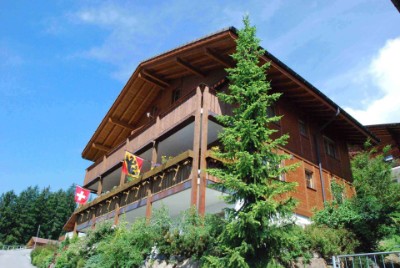 Chalet "Fuchsbau" stands at an altitude of 1.100 m on a sunny terrace
of the Bernese Oberland, in the village of Beatenberg.
The Chalet is overlooking the shining turquoise Lake of Thun and
faces the impressive snow-capped mountain group of Eiger, Mönch and Jungfrau.
The view from the large windows and the (furnished) balconies of the apartments
is breathtaking.
As the mountain terrace and the Chalet are directed southwards,
the number of hours of sunshine is usually high.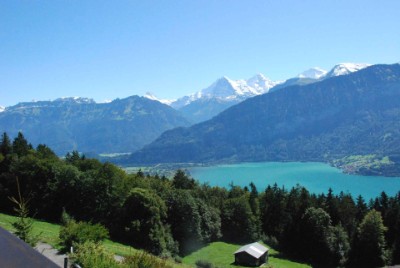 A well-constructed driveway leads from the main road to the chalet
"foxhole" in an absolutely to in a quiet location.
You can watch wildlife.
You can enjoy yourself in chamois, roe deer, deer, eagles and foxes.
A leisurely sunbathing on the balcony, nothing prevents.

Also be offering active holidays.
In the resort and nearby you will find countless sports and excursions.
Urge your activity knows no limit.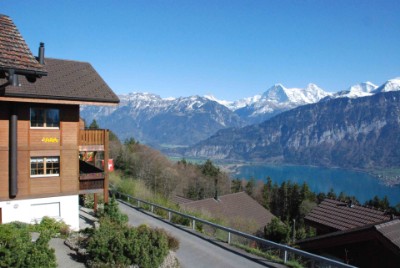 The chalet foxhole is used as a "full-year holiday destination."
The southern exposure provides maximum sun hours.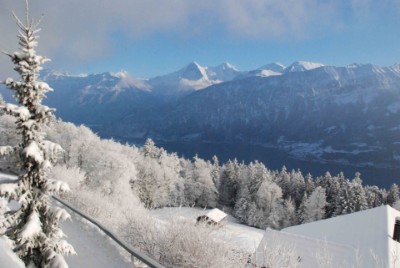 In winter you have in Beatenberg, on the Niederhorn and in the nearby
Jungfrau Region all imaginable sports are available.
snowshoeing
skiing
sledging
hiking
or resting
Look too : pictures from the apartments
There are many possibilities